This is a  very versatile dish.  It can be served as an appetizer, a salad or even as a main dish.
For 2 servings you need:
For the marinade:
4 small garlic cloves;
1 small onion;
3 tbsp balsamic vinegar ;
2 tbsp extra virgin olive oil;
2 tbsp soy sauce;
 a pinch of sea salt;
a pinch of black pepper;
2 branches of rosemary;
2 branches of thyme;
 a few sage leaves.
For serving:
2 -3 hand full of rocket leaves;
a pinch of salt;
a pinch of pepper;
50-80 g Parmesan cheese;
12-15 cherry tomatoes;
4 tbsp balsamic vinegar.
First, prepare the marinade: cut in fine strips the onion, crush or cut into small pieces the garlic cloves. In a large bowl mix together all the ingredients of the marinade.
Next, trim the goose breast and cut the skin – be careful not to cut the meat as well. Place the meat in the bowl, cover with marinade cover in plastic film and let it stand in the fridge for at least 24 hours. Turn the meat from side to side every few hours.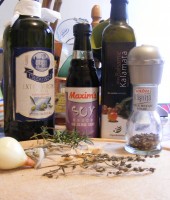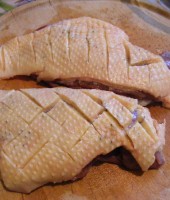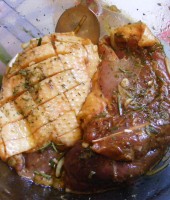 Place 2-3 tbsp of olive oil in a large frying pan and place it over medium heat . Remove meat from marinade and wipe with a paper towel. When the oil is hot, place the meat with the skin down and fry until brown (about 3-4 minutes). Turn it on the other side and cook for another 3-4 min.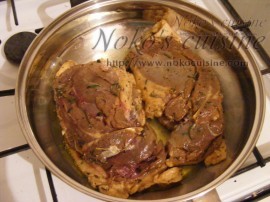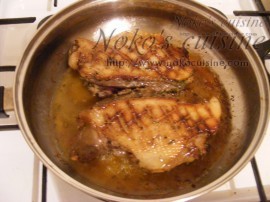 Preheat the oven on medium/high. Prepare a oven-proof tray, place the meat in it, transfer the grease from the frying pan (leave aside just two tablespoons) cover with aluminum foil and place it in the oven for 15 minutes. Let it cover to rest for another 10 minutes , then cut into slices before serving.
In the meantime, pour 4 tablespoons of balsamic vinegar over the two tablespoon of grease you reserved, place the frying pan over medium heat and let it simmer  (about 5 minutes). Cut in half about 6 cherry tomatoes and put them into the pan as well.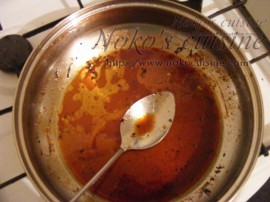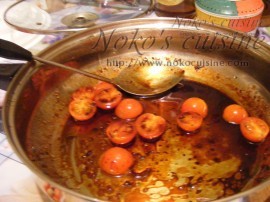 On a large plate, arrange a "bed of rocket". Arrange over it the slices of meat. Drizzle the balsamic vinegar sauce, add remaining tomato cherry and grated Parmesan cheese. Season with salt and pepper and that's it you are ready to serve it!!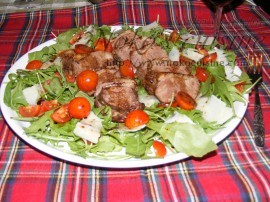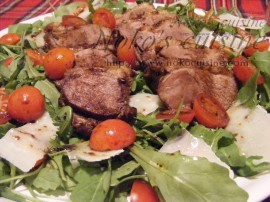 Enjoy!!!